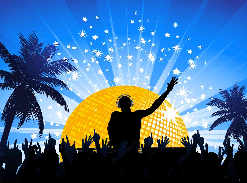 Dan entertains for corporate events on all of the Hawaiian Islands!
He is frequently the MC for all types of motivational team building events large and small. Dan is also utilized for his voice as the host of numerous awards programs, video voiceovers and "Voice Of God" background announcing.
A few of the programs Dan has been a DJ for include a private party for the Seattle Seahawks, the NFL Players Association, Nike MLB, NBA and Nike NCAA Coaches. Some of the corporate giants include FedEx, Time-Warner, HP, countless financial and pharmaceutical companies. Groups have ranged in size from 20 to 3,500!
When Oprah Winfrey brought her company Harpo Productions to Maui and the Grand Wailea, Dan was rocking the party in his" Home Club" Tsunami Nightclub for them!
Frequently corporations have private concerts on Maui and Dan is often chosen to perform for post concert parties. Some of those acts have included Neil Diamond, Huey Lewis and the News, The Beach Boys, Journey, The Fray, Gladys Knight, Sheryl Crow, Hootie & The Blowfish, Stevie Nicks and Mick Fleetwood from Fleetwood Mac! Model and TV star, Tyra Banks filmed a few episodes of the show "The Next American Model" on Maui and Dan played the tunes for the Wrap Party.
Dan for five yeas was the DJ for the very exclusive Mercedes-Benz/PGA Golf Tournament Pro-Am Dinner in Kapalua to kick off the PGA season. This annual January event featured numerous Hollywood and sports celebrities. Dan is currently the DJ for The Shane Victorino Foundation Celebrity Golf tournament held every November here on Maui also featuring numerous major league baseball players and celebrities.